The Beginning of Star Dancer Studios
How has the success of the award-winning PBS feature documentary Awakening in Taos impacted the production of Man of Many Colors?
Man of Many Colors is the second production planned for PBS in a series of films directed by Mark Gordon. It's an inspiring documentary about Blue Spruce Standing Deer, a captivating Taos Pueblo artist. This film is scheduled for completion by September 2021 for submission to the Sundance Film Festival.
The recent successes of Mr. Gordon, CEO of Star Dancer Studios, has had raising funds for Man of Many Colors are built upon lessons he learned from his grassroots efforts on Awakening in Taos. Gordon was mentored by Bruce Begin, a veteran fundraiser who helped him raise $500,000 for the first film. Mr. Begin was instrumental in helping Gordon generate revenue from individual donors, donor sponsored events, the local business community, and major grants from foundations. In the process, they became friends and Begin came on board as a Producer for that film.
Gordon has raised over $76,000 so far for Man of Many Colors with a goal of $194,00 to complete the project. The 2020 Indiegogo crowdfunding campaign raised 150% of the goal. This included 90% of the donations coming from people they already knew. Other outreach efforts to his existing donor base have been successful. Submitting a few grant applications each month to major foundations is another goal. "We've also been fortunate to have very generous sustaining donors who prefer to remain anonymous," said Gordon.
Native American Executive Producers
There are three producers on Man of Many Colors, Blue Spruce Standing Deer from Taos Pueblo, his wife Marti White Deer song and Executive Director Jhane Myers from the Comanche and Black Feet Tribes. Gordon's selection of Sundance Fellow Jhane Meyers as Executive Producer on Man of Many Colors was an incredible find. "I interviewed a dozen candidates during our national search for a female Native American producer," said Mr. Gordon. "I was amazed to find a leading Native producer who lives less than two miles from me in Santa Fe."
Myers has produced several acclaimed films. Words from a Bear is a documentary about M. Scott Momaday, the only Native American poet to win the Pulitzer Prize for Literature. It was produced for American Masters and broadcast on PBS. Indian 101 is about Ladonna Harris, a Lakota woman. She was instrumental in the return of the sacred Blue Lake and 48,000 acres of land from the U.S. government to Taos Pueblo during the Nixon Administration. This land was originally deeded to the Taos Pueblo Indians in a land grant from Spain. It was illegally annexed by the US government for day use and camping and later became the first native land ever seized and returned to a North American tribe. Myers also worked on Disney's classic Lone Ranger film, released in 2012.
The name of Gordon's new film production company was inspired by a spirit guide that visited Standing Deer in a vision. This transformational spirit being inspired him to make critical personal changes of recovery during a low period in his life. Standing Deer was also a contributor and producer on Awakening in Taos about Mabel Dodge. She was a writer and social activist who moved from Greenwich Village, New York to Taos in 1917. She helped establish the internationally known artist and writers colony. In 1923 she married Standing Deer's great-grandfather, Tony Lujan. The film contains interviews and archival photographs of Taos Pueblo and Standing Deer's family life.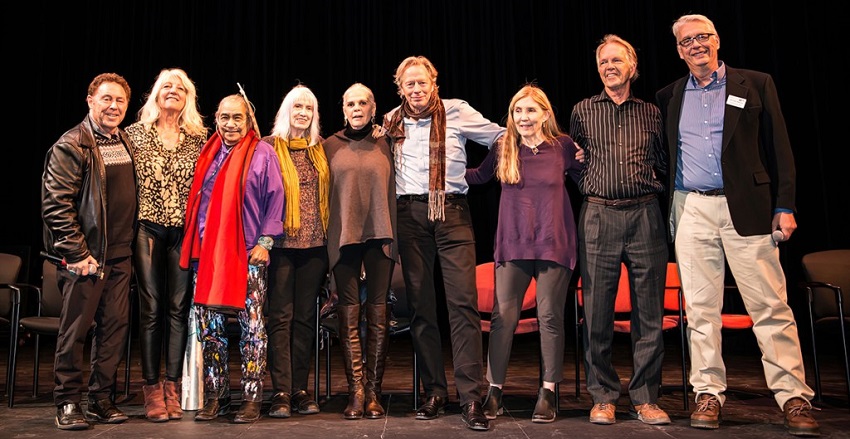 Addressing Social Issues for Underserved Audiences
Standing Deer would later do paintings of the Star Dancer, which has become the logo for the new production company. He and his wife, Marti White Deer Song, have produced beautiful, limited edition archival prints for fundraising. These digital prints can be acquired as gifts/perks by donors to the film.
During the filming of Awakening in Taos, Standing Deer was intimately involved with the research and development of the film. He received a producer's credit because of his unique contribution including reading and translating Tony Lujan's dialogue in the Tiwa language. There are hours of interviews about Standing Deer's life on the pueblo that didn't make it into the first film. That footage will be featured in the new film.
"Standing Deer's insight, personal relationships and memories helped make the story unique, authentic, interesting, and exciting," said Gordon. "This production is the first feature film to include the Tiwa language, which Standing Deer spoke growing up on the pueblo." Standing Deer also performs music on Awakening in Taos and again on Man of Many Colors. He collaborated with John Carey, a New Mexico singer songwriter who is a family friend that recorded many songs with Standing Deer and his parents. The focus of Man of Many Colors is to tell an authentic story about Native Americans, honoring the wisdom of tribal elders. The mission of this production company is to produce meaningful media about relevant social issues, native and women's rights for underserved audiences.
The Third Film in the Series
Gordon is currently developing a treatment and screenplay based upon the characters in Mable Dodge Luhan's memoirs. The third in the series will be a feature film or the pilot for a limited series. It is slated for pre-production in July, 2021. He will be employing Native American talent in front of and behind the camera.
"I'm reading her memoirs for the fifth time and finding new insights," said Gordon. "Her depth of understanding human nature and her attention to detail makes her stories come to life." Her memoirs are very compelling. As a woman, she was dealing with issues 100 years ahead of her time. She was an independent thinker and an early adopter of feminism.
Gordon has embarked on this project for personal reasons. He feels called to share Mabel's story because of her social relevance and visionary thinking. As in the early 1900's, women still seek greater empowerment and independence. In 1923, Dodge galvanized women across the country to defeat the Bursum bill. It would have taken 600,000 acres of sacred land away from New Mexico's nineteen native tribes. Gordon plans to shoot the majority of the dramatic film, Edge of Taos Desert, in New Mexico. There is the possibility of scenes being shot on location in Paris, Florence, and Buffalo, New York. He hopes that Myers will be available to continue collaboration on his third production.
Donate to Man of Many Colors
You can make a difference with your generous charitable donation. Star Dancer Studios is currently seeking new donors and co-producers to partner with artistically and financially. Visit www.momc.tv to make your tax deductible donation today.
---
---